14 Jun
Cruising The Great Lakes With Ted Lockwood Part I
BY Ted Lockwood -
0 COMMENTS
If you've yet to experience cruising on the Great Lakes, go ahead and add this adventure to your bucket list. We sat down with one of the newest brokers to join our David Walters Yachts crew, Ted Lockwood, a native Michigander and lifelong boater, to chat with us about his favorite spots to cruise around the Great Lakes, starting with Lake Michigan. In addition to being a competitive sailor, Ted's other love is skiing. As a six-year veteran of the U.S. Ski Team, he has competed in the World Cup Downhill and, most recently, has served as an official for the World Championship in France. When he's not sailing or skiing with his family, Ted has been hard at work setting up our latest outpost on the Great Lakes, establishing the David Walters Yachts' first physical presence in this iconic cruising destination. We're grateful to Ted for taking a break to share his recommendations and tips for getting the most out of Great Lakes cruising. Let's set sail!

Frankfort to Mackinaw
We're beginning this excursion at the delightful tiny coastal town of Frankfort, MI, on the little finger of the mitten, across the lake from Green Bay. Frankfort is a popular spot for salmon fishing, with a large boat ramp available for the purpose. The town itself has three different harbors, including a municipal harbor and the private Jacobson Marina Resort, which has a swimming pool on offer if you feel like taking a dip. Grab a bite at one of the half-a-dozen restaurants in town, or pop into Stormcloud Brewing Company for a pint or two of their Belgian-style craft beer. Frankfort is a great place to stop if you want to rent a slip, or you can anchor in shallower waters if you venture a little further into Betsie Lake.

Manitou Islands
From Frankfort, we'll head north to the Manitou Islands, stopping first at South Manitou Island, which is part of the National Park Service. There aren't any docking facilities, but Half Moon Bay on the east side of the island is relatively well protected from the northwest and southwest winds in the summer. North and South Manitou Islands feature in bittersweet Anishinaabe stories, from which the Sleeping Bear Dunes National Lakeshore gets its name. In the tale, a mother bear and her two cubs were swimming across the lake from Wisconsin, from hunger or fire depending on the version, but the cubs perished just before making landfall and became the islands, and the Mother Bear dune towering over the lake from the Michigan shore is the mother bear watching over them. The area is rich in history and natural splendors, and offers a multitude of opportunities for exploration and appreciation of the islands and dunes.
South Manitou is home to the Valley of the Giants, an ancient grove of northern white cedars on the southwest corner of the island, including some of the largest and oldest white cedar trees in North America, ranging from 300-500 years old and reaching 100 feet tall. There is spectacular hiking around the south end of the island, and divers can explore multiple shipwrecks and dock ruins along the Manitou Passage Underwater Preserve, including the wreck of the Francisco Morazan, which was a package freighter that ran aground in 1960 and is an easy dive site in 15 feet of water, perfect for burgeoning shipwreck divers to explore. There are three campgrounds on the island where you can reserve individual or group campsites if you'd like to spend extra time exploring South Manitou before heading to North Manitou.

North Manitou Island is the larger of the two and also has a Village Campground with designated campsites available, but you are also allowed to camp in the wilderness area, provided you have a backcountry permit and use a gas or alcohol stove instead of building a fire. The northeast side of the island has a park ranger station with a dock where a ferry boat comes daily during the summer months. You can check in there to go camping, and if you decide to anchor offshore within a quarter mile, there's an anchoring fee. There are fifteen thousand acres of wilderness to explore, including a village, ghost towns, inland lakes, and of course, lots of island plants and creatures.


Leland and the Leelanau Peninsula
After you've explored the Manitou Islands to your nature-loving heart's content, we'll head to Leland, which also happens to be Ted's hometown! The smaller harbor can be tough to get a reservation in, so plan far in advance to ensure you can make this stop: you won't regret it. Anchoring isn't recommended unless you're positive it's going to be completely calm while you're there because you're pretty exposed if you're not in the harbor.

With a population of 410 as of the 2020 census, Leland is the definition of quaint, with a wonderful harbor, a good grocery store for restocking provisions, and the historic Fishtown area at the mouth of the Leland River, a collection of fishing shanties where fishermen have brought in their hauls of whitefish and other local catches to process for smoking since the 1800s. The Carlson's Fishery is the spot to get your smoked fish, and where you can thank the Carlson family for their efforts to preserve Fishtown.

North of Leland is a secret spot on the tip of the mitten's little finger, almost the most northern extent of Leelanau Peninsula: Cathead Bay. The narrow beach is part of the State of Michigan Park Plan under Leelanau State Park management and is difficult to access by foot. Lucky for you if you're cruising, it's easy to anchor offshore in the relatively protected bay and stroll the beach looking for the distinctive Petoskey stones of the area, which are composed of a fossilized rugose coral and sometimes used to make jewelry. The beach is public until you begin to come across private residences along the shore, but as long as you stick to the high-water mark, you're allowed to continue beachcombing past these homes.
To the northwest of Cathead Bay and the end of the Leelanau Peninsula lie two islands, North and South Fox. South Fox Island is the larger of the two and one of the prettiest and most isolated islands in Lake Michigan. There is no good protection for anchorage when the wind is from the north or south, but if you know that it will be calm and you'll have a good high-pressure system and no sea velocity for a couple days, you could hang out there for a bit and experience the island's wild beaches, dunes, and cedar forest. Members of the Grand Traverse Band of Native Americans are buried in a cemetery on the island, which is historically significant to the Anishinaabe people. Deer hunting is allowed by permit on the island, and the South Fox Light Station area has seven structures to explore, which are undergoing regular restoration projects by the Fox Island Lighthouse Association.

Grand Traverse Bay - Northport to Suttons Bay
From the Fox Islands, we head south into Grand Traverse Bay, stopping at Northport first, where you can easily get a slip at the municipal marina, stock up at the grocery store, and head into town for a meal at one of the few eating establishments available. Just south and west of Northport is Bellow Island, also known as Gull Island, so-called for the local legend surrounding the lone, dilapidated house that stands amongst a herring gulls' rookery. Although the Ustick family that once summered on the island were in fact forced to abandon their cottage by extreme vandalism, the idea that the gulls prevailed over man's attempt to tame the island persists. Now the island is preserved as a sanctuary and humans are not allowed on it whatsoever, but you can sail around it to peer at the gulls and the house and pretend you're Tippi Hedren.

South of Gull Island is the well-protected Ingalls Bay, just north of Omena. It's a lovely spot to anchor in for a quick stopover to swim and admire the private homes along the beach. Then skirt around down to Omena Bay to visit another cute small town, Omena, where there's a great bar and restaurant called Knot Just a Bar right on the water. Omena Bay is deep (~80'), so anchoring there is challenging; it's worth a brief jaunt to pop into town, but perhaps not a spot to spend the night.

Five miles south of Omena is Suttons Bay, a slightly larger small-town community on the west side of the Leelanau Peninsula. Take advantage of their nice municipal marina and the hospitality of the harbormaster Edie and her welcoming staff: they usually have availability for overnight docking. Or you can anchor in the sandy bottom of the bay with protection from all directions. If you're a fan of bike trails, there's a beautiful paved greenway from Suttons Bay to Traverse City 15 miles away.


Traverse City and Grand Traverse Bay
Whether getting there by bike or boat, Traverse City is a must on a Lake Michigan cruise, especially if you can time your trip right and be there during the National Cherry Festival in July each summer. The festival is hugely popular, drawing 250,000+ visitors annually from all over to enjoy carnivals, cherry pit spit contests, pie eating contests, air shows, live music, and more. There are two harbors at the bottom of the bay: the municipal Clinch Harbor brings you in close to town with excellent proximity to at least 20 restaurants; Elmwood Township Marina on the west side of the bay is a quieter spot with three or four restaurants nearby.
If you head north from Traverse City up West Arm Grand Traverse Bay, you'll hit the Power Island hotspot where Traverse City folks flock on the weekends to camp, hike, and party. If you're more in the mood for a nice dinner out rather than an island party, head up the Old Mission Peninsula to a restaurant called Boathouse in Bowers Harbor. Anchor off the harbor and take your dingy right up to the restaurant's dock to get a delicious dinner with a gorgeous sunset view.

As you go further north to the point of the Old Mission Peninsula, you might mistake your surroundings for the Caribbean: thanks to the filtering of invasive zebra mussels introduced into the lake in the 1980s, you can see straight down 15-20' in unbelievably crystal clear waters. Anchor in Old Mission Bay and stroll half a mile back in time to the Old Mission General Store, a historic general store that has been there since the 1830s, where you can stock up on snacks, grab a pizza or sandwich for lunch, and shop local goods. Take a picnic to the public beach and then it's time to sail across the East Arm Grand Traverse Bay over to Elk Rapids to the east and south.

The bottom of the East Arm Grand Traverse Bay doesn't have a whole lot to do—it's mostly private homes and hotels. Instead, skip on over to Elk Rapids on the east bank of the bay, home to the Elk Rapids Harbor Days festival in August, when the town celebrates the best of its community with live entertainment, family activities, and a stunning fireworks display. Whether you make it for the festival or not, Elk Rapids is a great little town with a nice municipal marina, lots of cute little shops, and a few great restaurants right in town. If you're up for a longer walk for dinner, it's just about a mile to Pearl's New Orleans Kitchen, where they serve delicious Louisiana-style Southern fare that is well worth the trek.

Fisherman's Island and Charlevoix
After you've finished exploring the Grand Traverse Bay, head north toward Charlevoix, stopping first at Fisherman's Island State Park. Check your charts—there are lots of rocks around, so you have to fish your way in from the north, but Fisherman's Island Bay is a great area to hang out, with the best beach located on the north side of the shore on the mainland across from Fisherman's Island.

It's just four miles north of Fisherman's Island to the nicest marina Ted has ever been in at Charlevoix. Enter through the Round Lake Channel under the drawbridge, which opens every half hour during the day and on demand at night. The marina is popular, making docking limited, so you can also anchor in Round Lake (although the depth can make it challenging) and take your dingy into the day dock, where the harbormaster is exceptionally accommodating and generous with the shower code. From there you can sail into the beautiful 12-mile-long inland Lake Charlevoix.

On the north side of Lake Charlevoix is Oyster Bay, which is a great spot to anchor for a night and swim around, but you can't go ashore since it's mostly private lakefront property. Ernest Hemingway fans can take a walk in his shoes at Horton Bay, where he spent many summers posted up on the front porch bench at the Horton Bay General Store. Pick up a copy of Nick Adams at the Red Fox Inn Bookstore and walk to Horton Creek, maybe with a fishing pole in tow, to sit on the footbridge over the creek and immerse yourself in Hemingway's world.

At the far southeast end of Lake Charlevoix is Boyne City, which has two marinas with transient slips available. You won't have a problem provisioning in Boyne City—there are lots of shops as well as restaurants. It's also a great spot to walk around with good hiking nearby. In the south arm of the lake is East Jordan, which is a bit of a sleepy small town with a nice municipal marina and a foundry that is worth a day trip, if only to also marvel at the gorgeous lakeside homes you'll see along the way.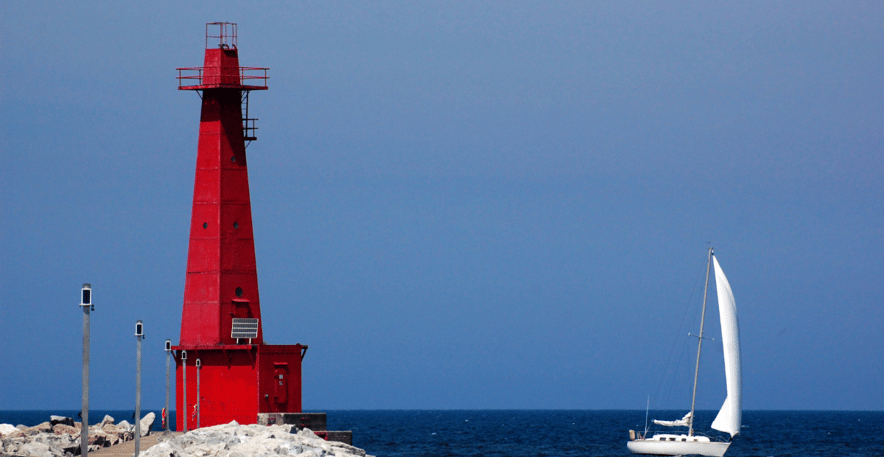 Bay Harbor to Beaver Island
When you're ready to leave Lake Charlevoix behind, head back out onto the big lake and north to tie up at the marina at Bay Harbor, where there's another Knot Just a Bar location and other eating establishments, the fancy Bay Harbor Yacht Club, and multi-million-dollar homes. It's worth pulling in and checking out, and if you're there in June, you might catch the Bay Harbor In-Water Boat Show, held annually over Father's Day weekend.

The next stop is Petoskey, which can also be reached from Charlevoix by bike trail. There's plenty of shopping and eating to do in Petoskey, and you can walk off your bakery treats hiking and biking around the town. Then head straight across Little Traverse Bay to Harbor Springs, home of the Little Traverse Yacht Club "Ugotta" Regatta, which brings some of the best sailboat racers in the country to Little Traverse Bay the weekend after the second of the Mackinac Races for a weekend of racing and festivities. You can watch the racers from Petoskey State Park or Petoskey's Sunset Park on land or from a power boat on the water.

Harbor Springs is also the home of Irish Boat Shop, one of the best service shops to get work done on your boat, with an excellent sailing service marina. You can anchor in the bay or stay at either the municipal marina or Walstrom Marine, both of which are in town, putting you close to the beautiful classic architecture of Harbor Springs, an old-money resort town. During the summer months, Harbor Point doesn't allow cars, so prepare to get around by foot, bike, or golf cart if you plan to explore the neighborhood.

From Harbor Springs, zip 30 miles northwest to St. James to get a drink at the famous Shamrock Bar and Restaurant on the north end of Beaver Island. Anchoring is a little tricky: watch out for weed beds and find the sand to drop your anchor into. There is a marina in the harbor but it doesn't have floating docks and you're a bit exposed to the southeast winds, so it can get a bit rough—Ted usually anchors instead of staying at the marina. Not far from the marina is the Beaver Island Lodge, which is known for serving really good meals. Beaver Island is the largest island in Lake Michigan and measures 13 miles long and can also be accessed via a ferry service from Charlevoix that runs twice a day. You can rent a car or bike on the island to explore, or you can island hop to the nearby Garden Island, Hog Island, and High Island. It can be tricky getting around there depending on what you draw, so be careful navigating from island to island. Kayaking is a great activity around the islands, but if you're afraid of snakes, skip hiking on Garden Island—it is home to lots of garter and water snakes.
Mackinaw and Mackinac Island
Leave Beaver Island via Grays Reef Passage to head to Mackinaw. You can get relatively close to the Waugoshance Lighthouse that racers in the Race to Mackinac navigate around at the end of the entrance into Grays Reef. If it's calm, you can hang out for a bit to see if you can catch a glimpse of any ghosts at the decommissioned lighthouse, which was constructed in 1850 as the first light built in the Great Lakes surrounded by water and is rumored to be haunted.

Before you head through the Straits of Mackinac, you can tuck into St. Helena Island into Honeymoon Cay on the north side for a nice anchoring spot off the uninhabited island, from which you'll have a magnificent view of Mackinac Bridge lit up at night, one of the world's leading suspension bridges spanning seven miles. Then sail under the bridge and onto Mackinaw City and Mackinac Island.

Mackinaw City is on the south end of the bridge and has two great state-owned marinas on the Lake Huron side, which almost always have room for visiting boats. A ferry service takes folks from the city to the island every half hour—the island is a popular tourist destination with a lot of people milling about and shopping for fudge during the daytime. But if you stay after sunset, the population drops significantly and you can experience the island's peaceful evenings. You can bike, run, or walk the perimeter of the island on an 8.2-mile car-free road to take in multiple points of interest, including quaint shops, the Native American Cultural History Trail, Arch Rock, and Fort Mackinac. History buffs will appreciate checking out some of the oldest buildings in Michigan as well as museums and reenactors interpreting the lives of soldiers and civilians of the 19th century.

Part II Coming Soon: Lake Huron and North Channel
Stay tuned for Part II of Cruising the Great Lakes with Ted Lockwood. We'll pick up where we've left off here, having just entered the waters of Lake Huron. Are there any spots you would add to the journey we've charted so far? Let us know in the comments on our social media pages, or drop us a line via email with "Blog Feedback" in the subject line.

Thanks again to Ted for sharing his wealth of knowledge of the Great Lakes waters! And if you're looking to buy or sell a boat in the Great Lakes area, be sure to give Ted a call to get the full David Walters Yachts experience through one of our newest outposts!
TED LOCKWOOD
DWY GREAT LAKES YACHT BROKER
231-218-5186