14 Jun
Expert Tips on Prepping for Passagemaking from Rich Hoyer
BY Rich Hoyer -
0 COMMENTS
As a lifelong sailor, Rich Hoyer has a deep well of experience in all kinds of sailing, but one of his greatest passions is passagemaking. In 2014, he began a blog to chronicle a multi-year cruise he planned to take with a group of friends, initially by living on a 1989 Sabre 42 to test their love of cruising. From 2019 to 2022, they sailed a Hylas 54, christened Rover, doing some long-distance cruising around New England and the Caribbean until he acquired his dream sailboat, Blue Moon, a 1988 Sabre 38 MKII in November of last year. We're thrilled that Rich has offered to share his expertise in passagemaking with us for this blog, but if you're interested in 1980s boat restoration, living aboard, double-handed racing, or yacht reviews, we highly recommend browsing his blog archives over at svrover.com. For now, we're digging into Rich's tips for how to prepare for safe and comfortable long-distance cruising. Let's go!

Passagemaking Yachts
There are four broad categories for how people use sailboats, and the boats within each category differ in some significant ways:

Day Sailing and Weekending
The boats used for day sailing or weekend trips are typically more lightweight and inexpensive boats like coastal cruisers. They usually have less robust systems and equipment for sustaining life away from shore, because they're not really meant for that. They may have smaller water and fuel tanks, only one head, and usually don't have a generator or water maker. Some folks may take them out for up to a week, but these boats are best cruised coastally to allow the crew to pop in to a dock to fill water and refuel every few days. People can and do take these boats on open ocean passages, but they are not ideally suited to the purpose.

Racing
Boats built for racing are even more lightweight than coastal cruisers, with almost no systems. They're usually very simple boats meant for short races, streamlined for speed and performance. Some of these boats are built to be raced offshore, but they are seldom built for comfort and so shouldn't be on a buyer's shortlist if passagemaking and living aboard are the primary ambition.
Living Aboard
There's a little more variety among boats in the liveaboard category, depending upon who owns the boat and what they need for their preferred liveaboard lifestyle. The conversation becomes more about what to bring aboard to support that lifestyle, and some designs cater to specific customers' needs, like folks who want to stay relatively coastal and who therefore don't necessarily need bluewater construction. A retired couple who want to sail from Annapolis to the Bahamas and back every year would be the right buyer for this type of boat. "Coastal-liveaboard" boats will usually have more systems and capacity for water and fuel than coastal cruisers, plus often conveniences like generators and water makers. They will often de-emphasize sailing performance relative to other designs.
Passagemaking
When your sailing plans look less like going up and down the coast and more like offshore sailing from Bermuda to St. Martin and being nowhere near land for a week or more at a time, now you're in passagemaking territory. Boats for passagemaking are similar to liveaboard boats in systems and capacity, but they are much sturdier to stand up to open ocean conditions while bluewater sailing. It takes time to learn what a passagemaking boat requires before you sail off into the horizon; it's not the kind of boat you can pick up at a boat show and cast off to Bermuda on the same day. You'll want to operate near the coast for a couple seasons to familiarize yourself with all the systems and equipment and understand what you must have aboard before you're in the middle of the ocean with a broken generator.


Repair, Replace, or Release?
When you're in the process of preparing for a long-distance cruise, you need to survey all your boat systems methodically and consider what you can repair, what can be replaced, and what you could let go of fixing until you can get to a marina.
To identify the absolutely critical systems, ask yourself, "If I am five days away from land, which systems cannot be allowed to fail?" If one of those critical systems does fail while you're five days out from land, you can't run to a hardware store for the tool you need to fix it: you must have that tool aboard before you leave.

Once you know your can't-fail systems, you need to amass every single tool and replacement part you could possibly need in order to carry out any boat repair necessary to get you to your next destination safely. Build a bill of materials to track everything, from every fluid your generator or engine could need to parts that are commonly replaced like fuel filters or belts for pumps. Also, take a look at tools you might need in the event of an emergency. If your boat rolls, how will you cut away the mast if it breaks? Smaller boats may only need bolt cutters, but larger boats likely have a more robust connection. You need to know how the stays attach to the boat and have the right tools to detach them as quickly as possible on hand.

Typically, your critical systems are going to be the main engine, the generator, the water maker, and the toilet system. Note: More convenient toilet systems are also more complex—if you've got a vacuum toilet, you need spares for that system, including the vacuum pump. The simpler the toilet system, the easier it is to deal with. Good old-fashioned hand-pumped systems have a whole rebuild kit you can keep on hand to fix much more readily than an electric system.

Additionally, you may want to have a backup plan for food prep on board in case you lose propane in your main stove. A Coleman gas canister and grill is a good idea to keep stowed just in case, and if you prep backup meals ahead of time and freeze them, you're better equipped to keep your energy up if you can't cook full meals for whatever reason.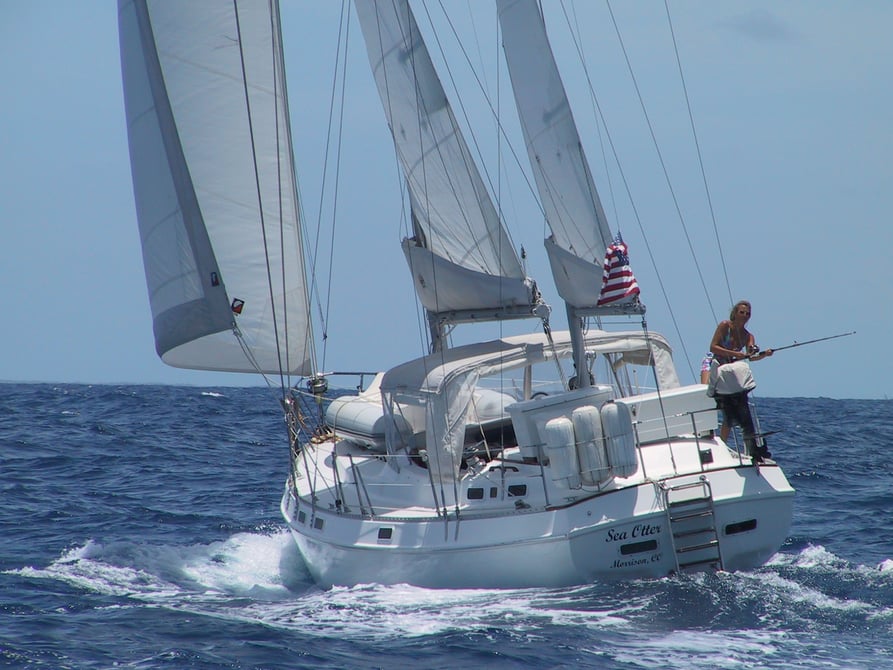 Your Safety Kit
If you've taken a Safety at Sea training course, you're probably well-versed in what safety equipment you need onboard, and all of that applies with passagemaking: you need a medical kit, a standard ditch bag for what you would take into the life raft if you had to abandon ship, a radio, a satellite phone to make calls for emergency aid if needed, and proper personal flotation devices (PFD) with harnesses.

Mayday
A satellite phone is truly a necessary safety device. When you're outside the range of radio communications during an ocean passage, you need a way to reach the Coast Guard in case conditions go from bad to worse. There are also less expensive satellite tracker devices that allow friends and family ashore to see where you are on a map in their internet browser, and you can send and receive texts with them too, but you should also have a satellite phone in addition to a tracker.

Being in contact with someone on land whether through text or satellite phone during long passages is a great idea for multiple reasons: sometimes they have better access to information like developing weather conditions, or if something malfunctions and you don't know how to fix it, you can have someone more experienced troubleshoot remotely.

Comfort in Layers
Remember your mom's familiar refrain to "bring a jacket"? Layers are the name of the game for packing clothing for passagemaking. Think about all the temperature ranges you'll see along your journey and make sure you have clothes that can transition with the climes. If you're packing in Annapolis in November for a trip to Bermuda, you're going to want to be wearing shorts in a few days. Vice versa, if you're going south to north into colder weather, you want to make sure you have a good set of warm sea boots.

Don't forget outerwear like hats, and foul-weather gear in case it gets cruddy out there, and if you're going out on someone else's boat, it's worth considering bringing your own safety equipment to ensure you have something you know has been maintained. If you don't know what their equipment is, you run the risk of having to use something that doesn't fit you or doesn't have a safety feature you prefer, such as a combined PFD and harness that releases under load from the wearer's end of the tether. If you'll be on watch at night, you may want to bring your own headlamp.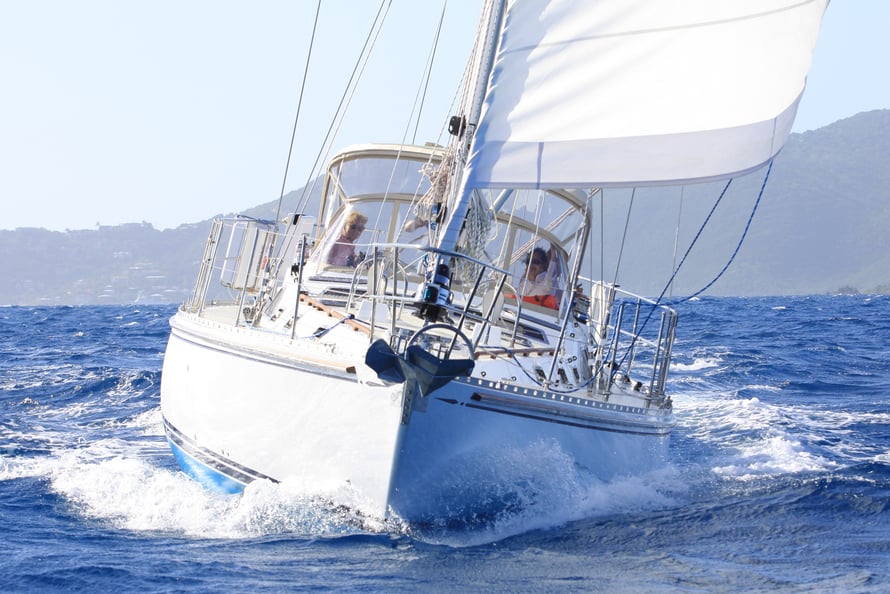 What's Cooking?
Meal prep for passagemaking is a Plan A/Plan B affair. You want to create a Plan B that is tolerant of the weather being awful from start to finish: how would you cope if it is really unpleasant to try to prepare a meal? If you're taking a seven-day trip to Bermuda and it is too rough to cook the whole time, you'll need seven days' worth of dinners prepped, frozen, and ready to reheat, plus something simple to pull together for lunches like sandwiches. And you can never go wrong with keeping a big batch of breakfast burritos in the fridge—they're great for late at night when you're on watch.

Your Plan A meal plan can be more based on what you would enjoy cooking in calm conditions so you can have that lovely dinner in the cockpit. You just want to know that you don't have to cook because your Plan B is ready to go, but otherwise, you should absolutely bring ingredients for what would be fun to cook on nice nights. You burn a lot of calories on a passagemaking trip, so no matter what, you don't want to skimp on the meal plan. People will be hungry.

As far as beverages are concerned, your best bet is to maintain the water system on the boat such that you can drink from the sink rather than having to pack heavy flats of bottled water. You might want some additional options for variety's sake, like Gatorade, but there's no good reason the boat's tap water should be undrinkable unless you've been a little lackadaisical in keeping the system clean.
Be Safe on Any Boat
If you're crewing on someone else's boat, there are a few things you can do to give yourself greater peace of mind. In addition to packing your own PFD, harness, headlamp, and any other safety equipment you prefer to provide for yourself on someone else's boat, you need to be assertive about getting a proper safety briefing. You need to know everyone's roles and responsibilities if you need to evacuate the boat, like who has the engineering capabilities to check where water is rushing in from, who is in charge of getting on the satellite phone to establish coms with the Coast Guard, and who is assembling the ditch bags. All three of those roles must be different people; therefore, you need the right combination of skillsets aboard before you leave.

Every crewmember also needs to be given a diagram that shows all the thru-hulls: everywhere water comes in and out of the boat. That diagram should also be posted publicly, and it should be discussed during the safety briefing along with where all the safety equipment is located. Some safety equipment you need to know about includes life jackets, life slings, and inflatable pylons. If someone goes overboard, do you know where to fetch what's needed to get them back on the boat? Do you know how all the safety equipment works? Are you familiar with the diagram of thru-hulls enough that you could draw it yourself?

No matter whether you're preparing for a long passage on your own boat or another's, safety is paramount.

Ready to Set Sail?
From resource management to emergency protocols, preparing for passagemaking is no small feat, but when you're fully prepared, you're much more able to enjoy the journey knowing that you have thought of just about everything. Thank you so much to Rich Hoyer for sharing his passagemaking wisdom with us for this blog! And keep tabs on Rich and his travels aboard Blue Moon at his blog here.

Can't wait to start your passagemaking adventure? The first step is making sure you have the right boat for the journey! Get in touch with one of our bluewater vessel brokers to discuss your long-distance sailing goals and we can help pair you with the perfect yacht.