28 Jun
Picking Power: Cruising the Great Loop on a Motor Yacht
BY Marty Loftus -
0 COMMENTS
Last year, David Walters Yachts broker Marty Loftus and his wife purchased a 43' Marine Trader in St. Augustine, FL and dubbed it NIL CAILTTE. The name means "not lost" in Gaelic and is a reference to the Lord of the Rings quote: "Not all who wander are lost." It's a fitting title for the boat they purchased with the intention of wandering along the famed Great Loop, circumnavigating the Eastern United States. We talked to Marty about how they chose this vessel for the endeavor, their Great Loop experiences so far, and how they plan to tackle the next stage of their journey. Read on for tips and tricks on cruising the Great Loop on a motor yacht with lifelong boater Marty Loftus.


What Is the Great Loop?
The Great Loop is a cruising route that recreational mariners take to explore the Eastern U.S. The continuous waterway includes the Atlantic Coast, the Great Lakes, and inland rivers through America's heartland. There are several possible variations on the routes that Loopers take: for example, while you can take the Mississippi River all the way down to the Gulf of Mexico, many boaters choose to take the Tennessee River instead to avoid heavy commercial traffic on the Mississippi. Additionally, you can stick to the Intracoastal Waterway along the Atlantic and Gulf of Mexico coasts, or you can pop out into open water to make zippier trips from one destination to the next along the coasts. Some Loopers go all the way around the tip of Florida, stopping in the Keys and then dipping back into the Intracoastal Waterway around Miami, but others cut through the state around Fort Myers through the Caloosachatchee Canal, Lake Okeechobee, and the St. Lucie Canal. While you can start a Great Loop journey at any point along the route, the Great Loop crowd typically kicks off from St. Michaels in Maryland on Memorial Day Weekend, heading up the Atlantic Coast for the summer months.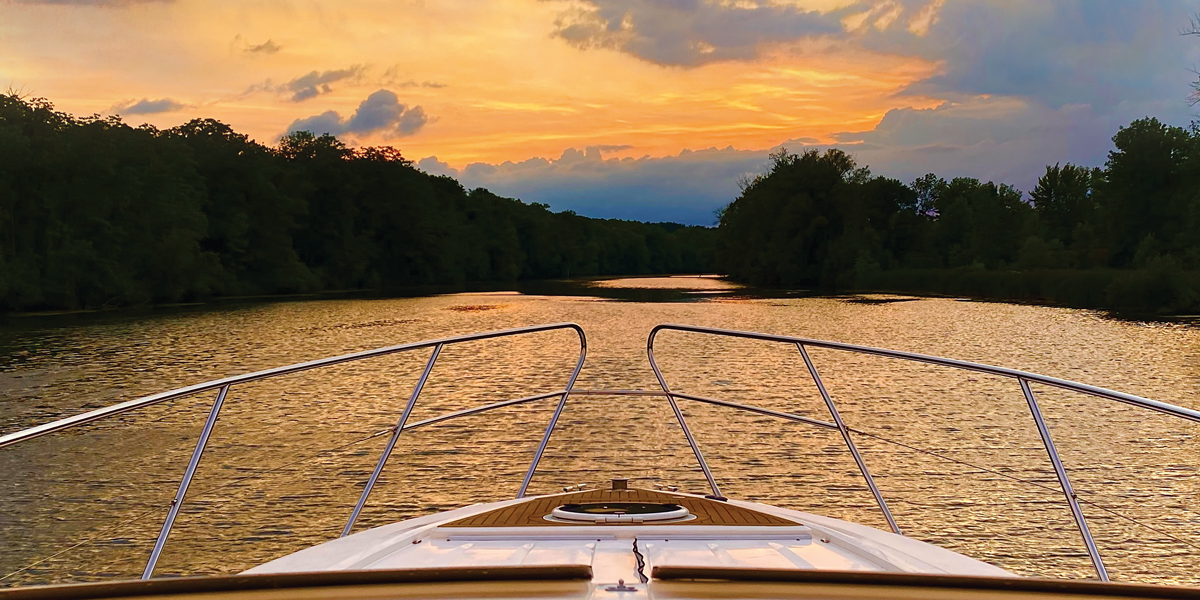 Power vs. Sail
When you're deciding on a boat to use for completing the Great Loop, there are a multitude of factors to take into consideration. First, do you want to use a boat you already own, or will you purchase something for the sole purpose of joining the legions of Loopers? It is not uncommon for folks to purchase a boat for the Great Loop and sell it after they complete the journey—you are putting 5000+ miles on one vessel in the process after all. If you want to buy high and sell high, you'll have to be sure you're taking excellent care of your boat along the way. For Marty and his wife, they wanted to spend the least amount they could on a boat that met some minimum requirements: it had to have sound engines, guest facilities nice enough for folks to visit, and a galley separate from the salon. The latter two exceptions meant they'd need a larger boat than may be strictly necessary, but the pros outweigh the cons in terms of how they wanted their Great Loop journey to go.
Power boats have several advantages over sailboats when tackling the Great Loop. There are a lot of bridges along the way, and masts have to be taken down and put back up on sailboats in many locations. Power boats get to skip the hassle and keep on moving through. Draft is another consideration, since many areas in the Intracoastal Waterway are rated at 6'. NIL CAILTTE draws a little less than 4', which gives them a lot of flexibility for navigating shallower waters, whereas a sailboat would likely draw more like 6', limiting where you can go. Clearance will also play into where they can pass through, with some fixed bridges on the route only allowing lower boats through. NIL CAILTTE won't be able to pass under the bridge at the end of the Erie Canal, which has a clearance of 15'6" or so, so they'll have to go up the Oswego River into Ontario instead.

When it comes to boat size, Marty and his wife initially looked at 50' boats, but settled on a 43' after researching marinas along the way: a lot of them have difficulty with boats greater than 45', so staying under that limit gives them even greater flexibility for the journey. And when it comes to engines, you probably don't need the big ones. A lot of segments along the route have speed limits of 5-6 knots, so having a big engine burning a lot of diesel not at its potential is a waste of gas and power.
Planning for the Great Loop
Completing a Loop usually takes about a year, with the record around six weeks and other folks taking their time to explore over a decade or more. In general, you can choose your own timeline according to what makes sense for your life and goals. Marty and his wife started their Great Loop venture in Annapolis and made it up to Sodus Point, NY before putting their boat on hard for the winter last year. As a fan of museums, they're looking forward to making more stops at various maritime and other historically significant spots throughout the journey. When they stop in small towns, they typically use Instacart to provision, since it seems available in most places and saves them a trip on bike or by cab to grocery stores that are farther from the marinas.
In their next segment, they plan to visit Cleveland via the Welland Canal, which requires a crew of three to make the 12-hour trip. Since a lot of Looper crews are couples, you can hire a third for about $500 at either end. Lake Erie is 300 ft higher than Lake Ontario, so Welland Canal lifts your boat through 10-12 locks to get you through. Commercial ships come through the St. Lawrence Seaway to the Welland Canal to get to Chicago, Detroit, Duluth, and other cities along the Great Lakes. If they weren't going to Cleveland, they would take the Trent-Severn Waterway, which connects Lake Ontario to Georgian Bay through a series of 43 locks, including the famed Big Chute, which is a bit like Splash Mountain for boats. After Cleveland, they'll head to Lake Erie to the Detroit River to Lake Huron up to the Upper Peninsula in Michigan, and on to Mackinac Island and Mackinaw City, where the Chicago Yacht Club Race to Mackinac ends with much to-do each year. (Learn more about cruising the Great Lakes here.)

To plan the rest of their Great Loop, they are taking the weather into account as well as maintenance of various structural elements along the way, such as the Chicago Sanitary and Ship Canal, which is one of the only ways south from the Great Lakes Waterway into the Mississippi River system. The locks system is scheduled to be closed for repairs from June to September with exceptions for commercial traffic, so Loopers can either gamble on being let through with some commercial traffic, or wait until the system reopens in September. Depending on the weather, Marty is preparing to either continue south even as fall turns to winter in the Southern states, or they will put the boat back on hard in Chicago and wait until the spring. Typically Loopers head north for summer and south for winter.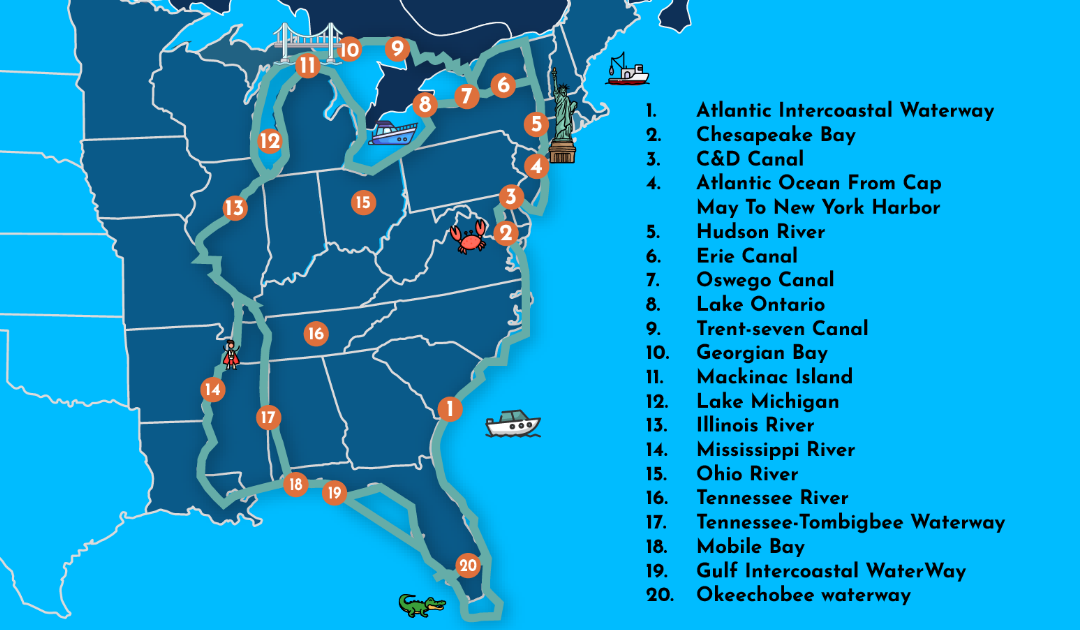 Spots to Stop
While they still have many more miles and points of interest to go on their Great Loop journey, Marty and his wife have enjoyed the first segment of the Loop from Annapolis to Sodus Point with stops in New York City, Albany, and other spots along the Hudson River. About 90% of the population doing the Great Loop stop in NYC, and you can either get a slip in a marina in Manhattan, which is very expensive, or go to Liberty Landing in New Jersey, which is less expensive, and take a 10-15 minute ferry to downtown Manhattan. Marty grew up in NYC and says there's nothing better than visiting. From NYC up the Hudson, there's tons of history and scenery, and if you're there in the fall, the foliage is gorgeous. Get a whole new view of West Point from the water and spot national heritage sites like the home of FDR, the Vanderbilt Mansion, and more on the way to Albany. They spent about a week at the Albany Yacht Club, which they highly recommend. The social scene is active and inclusive; when you're doing the Great Loop, it is hard not to make friends.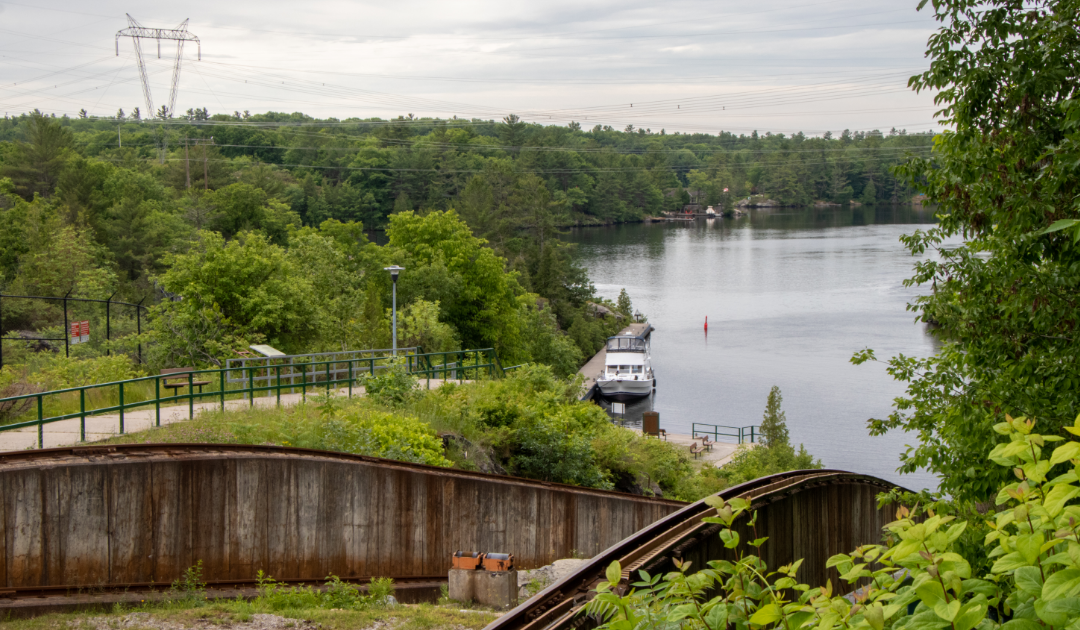 Great Loop Resources
There are two publications Marty recommends referencing when planning a Great Loop journey: Skipper Bob: Cruising America's Great Loop and Waterway Guide's publications. Skipper Bob offers factual data and is good for keeping on hand when you're deciding when to stop vs. carry on to the next place you can stop, while Waterway Guide has more of a prose presentation and is better at telling you what attractions along the way you might want to stop and look at.
The community surrounding the Great Loop is robust and includes America's Great Loop Cruisers' Association, which holds seminars and meet-ups throughout the year. Facebook groups are also a great way to connect with fellow Loopers and gather information and helpful advice. It can be great fun to travel the Great Loop along with a larger group, but it isn't necessary in order to have a fulfilling adventure. When Marty and his wife pulled up to the locks two months behind the crowd that left from St. Michaels on Memorial Day, one of the workers remarked, "Boy, you're really late," so even stragglers are still considered part of the community.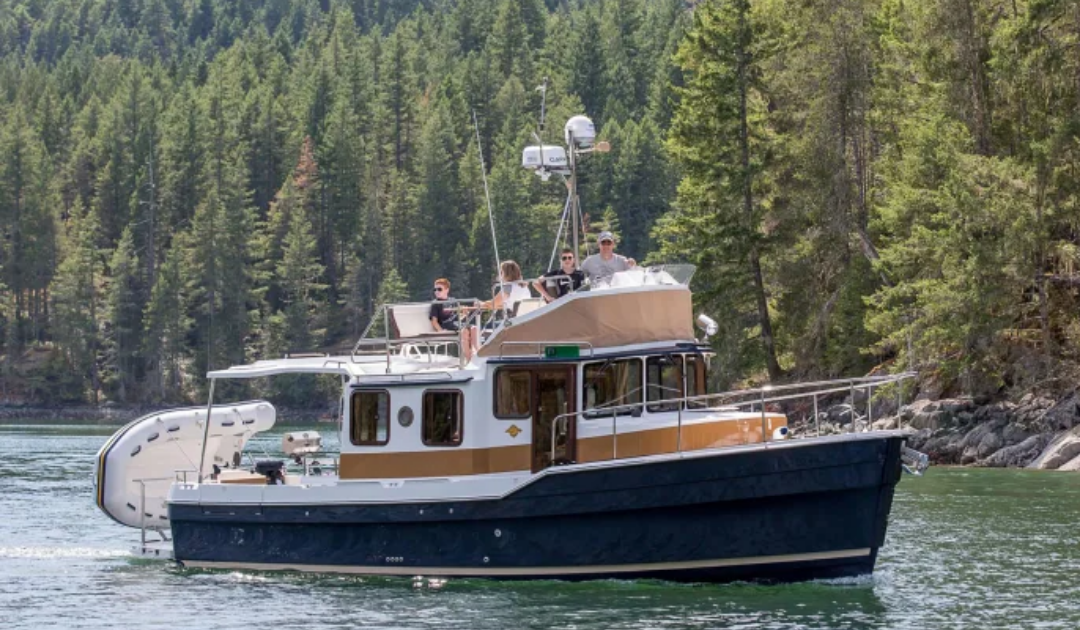 Long Live the Loopers
Thank you to Marty for sharing his expertise and experience with us for this edition of the DWY blog. We wish him and his wife all the best in their ongoing Great Loop adventure as they wander on NIL CAILTTE! Have you done the Great Loop? Think you ever will? Let us know in the comments section on our social channels and stay tuned for more great content from the DWY crew.