14 Jun
Tips from a Marine Surveyor: Avoid These Yacht-Buying Pitfalls
BY Amanda Noon -
0 COMMENTS
Career marine surveyor Tarn Kelsey wants you to know that marine surveys are a lot more than just a required step in the yacht-buying process: they're an opportunity. Purchasing a yacht is an exciting time, but prospective buyers would be wise to leverage the marine survey process to their advantage. We sat down with Tarn to talk through the marine survey process and his tips and advice for how you can get the most out of your next survey and avoid the common pitfalls he sees yacht buyers make.

Survey Says...
So what is a marine survey? Marine surveys are reports and valuations prepared by certified marine surveyors, who are like expert witnesses, acting as impartial third parties in a transaction. They are like a home inspector and an appraiser rolled into one, both inspecting and assigning a value. Tarn's specialty is pre-purchase inspections. He inspects the boat and prepares a written report for the prospective buyer, as well as for the insurance and financing companies involved. Tarn has been in the marine business since he began working in boat repair at 18. At 36, he hung up the tool belt and began apprenticing with a marine surveyor, and has been surveying boats ever since.

When does a marine survey happen?
Pre-purchase inspections happen after a prospective buyer contacts a listing broker, decides they want to buy a boat, and signs a contract to start the purchasing process. That contract starts a clock for the rest of the process, and that's when it's time to get a marine surveyor like Tarn on board to take a look at the boat.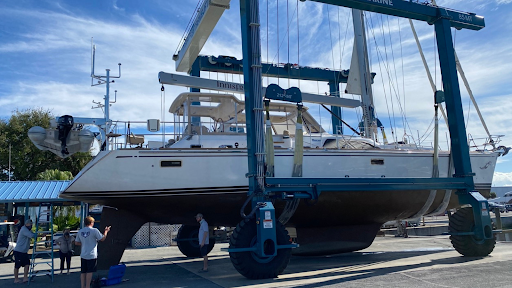 Survey Surveyors
Choosing a marine surveyor you trust is key. Most folks find Tarn through word-of-mouth recommendations from happy past clients, so reaching out to your networks can be a great way to get a few names to start with; brokers will usually recommend several names to preserve impartiality in picking surveyors. If you're searching online, look for names that come up again and again while cross-referencing forums, websites, and/or boat manufacturers' owner's groups. As the one who's ultimately buying the boat, you have the final say on who your marine surveyor is. It's a good idea to interview a few to find the right fit. You'll need to know if a potential surveyor:
- has enough career experience under their belt;
- is available to perform the survey and produce the report within the given timeframe;
- is familiar with the type of boat you're buying (sail vs. power, etc.); and
- tests engines, generators, and/or other specific equipment on the boat, and to what extent.

If you're going through the purchase process solo, you may want to keep in mind that some marine surveyors will only work with buyers who are working with a broker. Working with a broker can make the purchase process go much more smoothly for you overall, and the survey day for your marine surveyor: they know the ins and outs of how to prep the boat to ensure a successful day.
Macro to Micro
When Tarn arrives to survey a boat, he starts with the big things first: Are there basic structural problems? Is the rudder falling off? Is the deck rotting? Has the engine obviously caught on fire? After he's gotten an initial feel for the boat as a whole, he tackles the details, working his way through systems, and taking the boat out for a test run to check navigation systems and the sails on sailboats. Does the refrigeration work? How well? Are the hoses in good condition? How many hours are on the engine? This macro-to-micro approach allows him to systematically assess the boat's condition and begin working toward a valuation. Different used boats have different levels of wear and tear, and a marine surveyor can give you fantastic insight into the lifespans of various onboard systems and how well you can expect the boat to perform for your intended purposes.

How do surveyors assign value to a boat?
It depends on the boat! Some boats are easy because they're from a popular brand with a lot of comps on the market to compare value to. Custom boats with no sister ships can be a little trickier and you have to get creative to figure out fair comparisons. Overall, the basic question is whether the boat is above or below average for what it is and how it compares to similar boats.

Mistakes Yacht Buyers Make
As a career marine surveyor, Tarn has seen a lot of prospective yacht buyers on their prospective yachts, and he's noticed some common pitfalls excited buyers can make: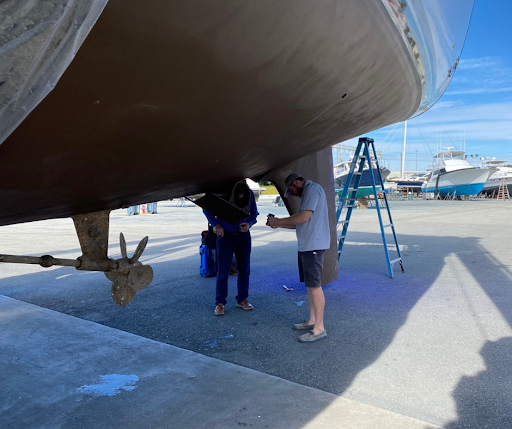 Getting too attached before the marine survey.
It's natural to be excited when you are close to buying a new boat, but getting carried away by your emotions can cloud your judgment. Try to maintain neutrality until after you've absorbed the marine survey report. If you've already got your heart set on a yacht and then discover the engine will need to be replaced within a couple of years, it might be difficult to accurately assess whether that's a future expense you actually want to sign on for.
- Not doing enough homework on the type of boat they're buying and the systems involved.
This one is pretty self-explanatory: it's hard to know what are key features or potential problems on a boat if you're not familiar with it, and if you're overwhelmed by a marine survey report on systems you don't understand, you could miss something critical that might make you decide whether or not to buy the boat.

- Overpaying for a boat or buying too much boat for what they have the experience for.
Some folks think it's best to buy as much boat as you can afford, but if you're not an experienced boat owner, you may not realize what it costs to maintain a larger boat after the initial purchase, which could be up to 5-10% of the boat's value per year, not including where you keep it! It's not uncommon for marine surveyors to survey one boat twice within a couple years because the first buyers were overwhelmed and disillusioned by too much boat.

- Inviting "expert" friends to weigh in.
Sure, some friends really do know what they're talking about and having an extra head aboard during the purchasing process can bring some balance to the equation, especially if you know you struggle with staying neutral. But choose who to bring into the decision-making process carefully. How experienced are they? Sometimes soliciting too many opinions can be unhelpful, especially if they're just opinions rather than expert advice.

- Not working with a broker or using a "hands off" broker who doesn't prep the boat before the survey.
As mentioned previously, some marine surveyors won't work with you if you're not working with a broker, and for good reason. Prepping a boat for a survey can be involved, and brokers know the ropes: all the systems should have been turned on, the batteries should be charged, etc. If a boat has been untouched for months (or years!) until the marine surveyor arrives, a lot of their limited time can be wasted on last-minute repairs and troubleshooting systems.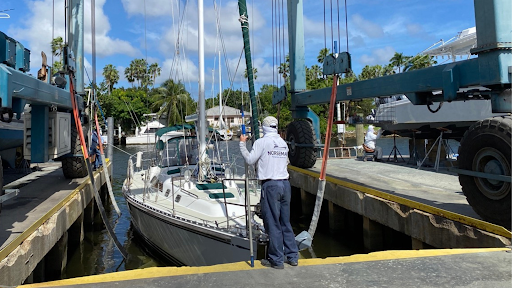 Get the Most from a Survey
So now that you know what mistakes to avoid, here's how you can go beyond and get the most out of your marine survey:
- Have an active dialogue with the marine surveyor throughout the survey.
Instead of waiting until the end to get a report you're left to decipher alone, get engaged with the surveying process. Ideally, nothing in the report should be a surprise because you had one-on-one time with the marine surveyor as they went through their process. No matter what your technical background is, you're sure to learn something helpful about the boat and its systems. Simply ask, "Do you mind if I go with you?" at the start of the survey to kick off an active dialogue that you only stand to gain from.
- Consider the time of year.
If you're surveying a boat north of the Carolinas in winter, it has likely been winterized; therefore, there are systems you either can't test or that are not cost-effective to test. Sometimes you can't help it: the boat will be gone if you wait until spring. But if you want to be sure everything can be tested and included in the survey, it's good to keep this in mind in terms of how you time your yacht-buying search.

A marine survey is so much more than an item on the yacht-purchasing process checklist. By doing your homework and staying engaged in the marine survey process, you can ensure that you have a clear picture of the boat you're hoping to buy and make a confident, informed decision about your yacht purchase. Happy boat buying!

Interested in getting a marine survey done by Tarn Kelsey? Reach out here: kelseymarinesurvey@gmail.com. And if you're looking for a broker to aid in the entire yacht-buying process, learn why David Walters Yachts buyer's agents are some of the best in the business here [LINK TO BUYER'S AGENT BLOG].