10 Apr
Top 10 Downeast Boats - That You Can Buy for Under $1 Million
BY Larry Pringle -
0 COMMENTS
Many many years ago, as a young, enthusiastic and energetic sailor, I had a conversation one evening, with an old friend of my fathers.
We were sitting on the engine box top of his motor yacht, quenching our thirst, in the setting sun. His hair, I remember was all white, skin like boot leather and a way of speaking which involved long pauses before even the shortest of his sentences were uttered. I was no doubt naive and honestly, probably rather blinded, by my then unbridled excitement for ocean racing.
I was intrigued and puzzled.
Here was a man I knew who had traveled in sailing yachts, extensively across oceans, before and after the last great war, regaling me with tales of his great passion for and his long experience of, voyaging under sail.
He was, however, rather astonishingly, I thought, ... telling me all this from the stern of a motor yacht which he now owned.
Completely incongruous ... I said to myself at the time!
Why, I asked him, do you own this vessel, when your eyes light up when reminiscing about sailing yachts?
He smiled and then .... after the mandatory long pause, replied: "You will young man someday, if you are fortunate, come to understand."
Fifty years later I possibly do!
Over the years, my reflexes have slowed, my desire to work the foredeck on a cold and windy night has abated some, and the word "easier" has increasingly edged into my conversations. I have learned to channel my energies more selectively. A good night's sleep in a level bunk is now far nearer the top of my mind and yes, I must admit, a large stable platform and the ability to really live...... below decks, while underway have all worked their way into my priorities.
The result is that I pay attention these days, more than ever, to a well built, commodious, power yacht. Having sold our larger sailing yacht, I have been investigating what should be next in the family. I have come to some conclusions!
I must also confess right up front that my eye is particularly drawn to those that have the lines of what most of us call a "down east" style. A low profile, lobster boat lines and slightly less yachty, more working boat look appeal to my nature.
Let me share some of these findings with you and even one or two (if you will permit) of my opinions!
There are many well-built power vessels available on the brokerage market these days.
For the purposes of this article, and reflecting some of my own priorities, I have been guided, (in addition to my prejudice toward my preferred style,) by considerations of quality construction and performance, good or at least reasonable resale value, a strong eye to roominess/comfort and a purchase price of less than 7 figures in US dollars.
I have limited my choice to 10 vessels and must therefore of necessity omit some very good alternatives. I list my choices and comment on them, in no particular order.
Top 10 Downeast Boats - That You Can Buy for Under $1 Million
SABRE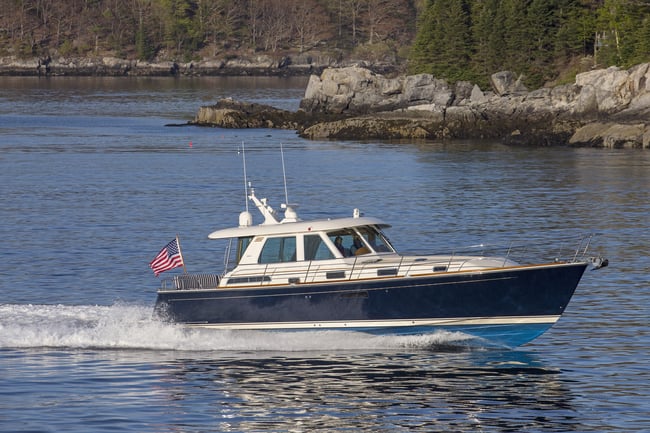 The Sabre line has a very solid reputation. Several of these vessels including the 48' must be a serious candidate when the criteria outlined are all considered. In addition, the brand holds resale value, has well thought out accommodations and several recent design ideas integrated into the traditional look and interior finish. She is large enough to accommodate 2 couples in comfort, each with head and shower. The addition of a captain's quarters below salon sole allow extra accommodations for crew/family members.
Her expansive foredeck is a great lounging area and her stern cockpit dining table and retractable rear cabin window creates a large outdoor living/entertainment space.
THE MARKET
Market offering prices are affected by vessel condition and options, and can vary noticeably, depending on the brand and style of the vessels power. Pros/cons between the Volvo/pod combination, the Cummins/Zeus duo or more traditional straight shaft drives are important considerations here.
48' models on the brokerage market range from 2012 in the mid $600,000's to very recent models at or just above $1 Million
40'– 46'madels are currently offered for prices as low as $300,000
HINCKLEY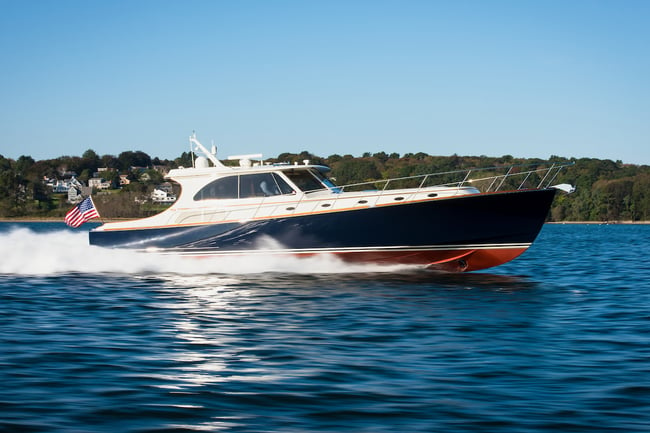 The Hinckley Company has built a remarkable brand over the years. Their power line includes several vessels in the range of 44'to 55'.
Many Hinckley's offered on the brokerage market are available at prices which are now more economical, relatively speaking, than at new.
The name brand, the associated appeal to some buyers, the quality of construction and the classic appearance overall, over the decades, maintained their attraction to a segment of the market. For this reason, they are rarely advertised at bargain prices although occasionally examples of this brand come on brokerage, usually due to seller circumstances, at prices which make them within reach of the value buyer.
THE MARKET
Again condition, options and maintenance history are always factors. Power plants options are an interesting aspect of these vessels as more and more alternatives become available on the brokerage market including electronic diesel-jet drive combos.
55' Talaria 2005-6s offered at slightly over and slightly under $1 Million.
44' Talaria models, 2003-8, offered at $500-800,000.
GRAND BANKS/EASTBAY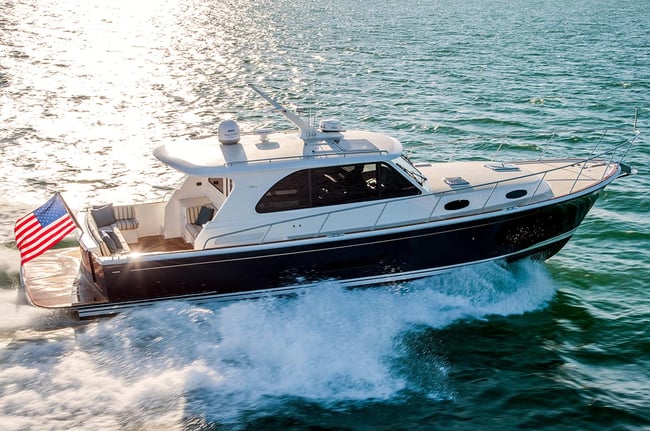 The Grand Banks name has been among the honor gallery for pleasure motor yachts for many years resulting in part from its original line of wood, classic trawler style vessels. Brand construction was converted to fiberglass as this material took its place among boat builders. Eventually the "Classic" design was transformed into the more modern East Bay line, keeping of course a "Down East "look. The vessels have a reputation for quality build, sea kindliness, fine finish and have an enthusiastic and substantial following.
One extremely interesting aspect of this brand is the large number of 40-55 ft vessels of both the classic and East Bay version that are available literally around the world. One can buy a GB and start an adventure from most major international yacht centers, a demonstration of their popularity as a brand and proof of how widely known and accepted they are. The variety of models in this size range also allows a purchaser almost any interior configuration that suits and, in a vintage/price point acceptable.
THE MARKET
Grand Banks hold their value well and many of the more popular models are, it seems, always available in brokerage. Newer vintages are now appearing on the resale market with pod drives and seakeepers. The classic line trawlers are numerous on the market and ones in very good condition can be acquired at very reasonable prices.
44' East Bay from $300,000 to about $1M based on model years ranging from 2003-2017
The larger models, with sizes in the range of 50 ft, are also available for well under $900,000

WESMAC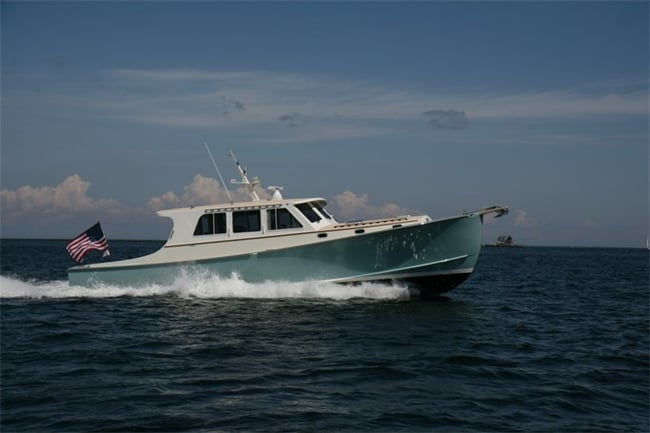 The Wesmac brand has a reputation as a very well built, seagoing, commercial grade vessel and as a general statement their pricing reflects that. They are considered my many howeveras not as "yachty" as other brands and tend toward a more serviceable finish and appearance.
The design involves more rear deck working space, with a lobster boat set of lines and not surprisingly less interior cabin space and fewer accommodations than other brands. That said many have been built/converted to yachts, providing owners who wish to spend more time offshore, with sturdy reliable service and less fancy maintenance.
THE MARKET
Most on the brokerage market are economical single diesel engine models, although a few twin power do exist. All are straight shaft. Vessels in some lengths are available in fly bridge models in addition to the traditional lobster boat and express design.
Pricing covers a broad range with:
1998 36' traditional lobster boat design at $260,000
2008 flybridge model at $800,000
2018 46' for just over $1 Million
BRUCKMANN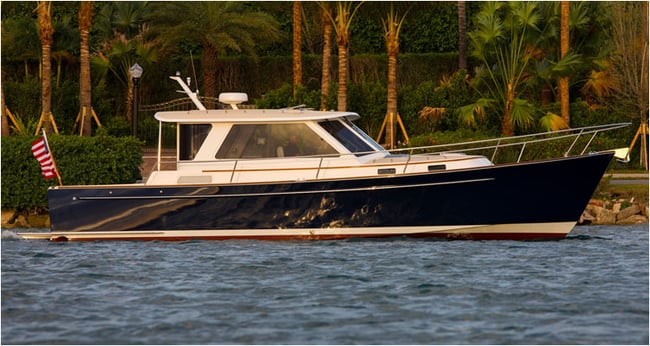 Bruckmann is perhaps less well known than others referred to here but among those who do know them these vessels garner great respect. Builders of both power and sail vessels, the power line tends to the down east styling and is frankly reminiscent of the Talaria from a distance. The largest power production model is the 40' classic, a few of which do come on the brokerage market occasionally.
They are smaller than the other yachts mentioned in this article (being designed around a single double berth cabin) but with a large, airy salon and rear cockpit deck. Single diesel, straight shaft drives and a very nice interior finish cap off a strong and pleasing looking vessel.
THE MARKET
2012 Bruckmann 40 version, located in freshwater, low hours, in very good condition, priced at $650000
MJM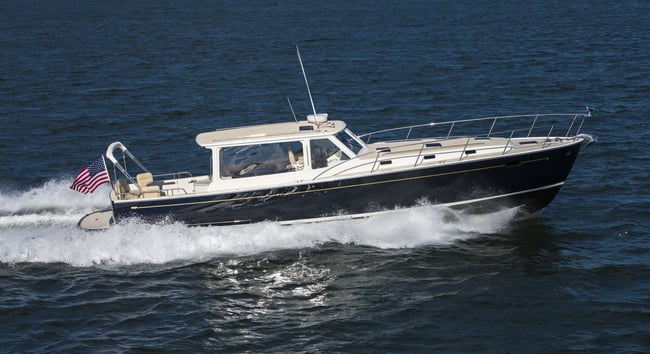 The MJM line burst upon the power yacht scene some years ago, conceived by a very experienced builder, with several new ideas about what would interest older sailors, moving to power. The result was a line of yachts that could perhaps be best described as a "modern version of the old "Down East". Low in profile, slightly reminiscent of a working fishing boat, bright, airy, open space, soft lines and just a hint of being ahead of its design day. Big on the "deck to interior salon space" concept, with a more compact approach to state rooms, a no wood exterior and a less woody interior, means the MJM has trimmed back vessel maintenance, with an eye to not interfering with cocktail hour. Modern strong materials are used throughout.
She will get you there quickly with the planning hull and lots of power. Speaking of power, and depending upon size, these boats are available with diesel straight shaft or stern drives with some of the newer ones featuring pods (Cummins or Volvo IPS). All come with a joystick for easy maneuvering and a design intended to accommodate shorthandedness.
All this comes, however, with a price!
THE MARKET
These vessels are available in a broad range of sizes starting from 30' (they call it 29z) and growing to 56' in length (the 53z). The larger versions' pricing, both new and used, will well exceed 6 figures. In order to stay under $1M on the brokerage market, some combination of experience and size must be considered. In my opinion the 36z model (which is 39' LOA) is probably the minimum size that would allow a couple to cruise extendedly, in some comfort.
36z 2012-13 versions offered at about $560,000
40z models (LOA 44') an '09 and an '11, offered between $650,000 - $850,000
LITTLE HARBOR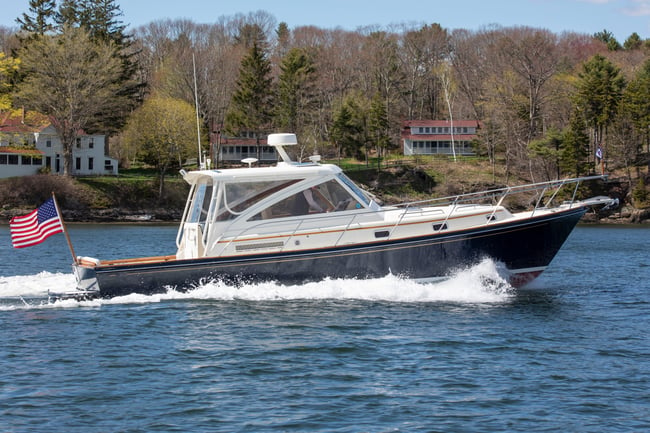 Little Harbor yachts must be mentioned here, although availability is an issue. They rate extremely high on the price / quality ratio even though new vessel production ended years ago. The Little Harbor is simply a great boat. Most come with the Whisper Jet Drive, but some are available with diesel straight shaft.
Built for several years by Ted Hood's Company, then constructed overseas, these boats were well designed, well-built and very nicely finished. Although there was the odd one built to 52' LOA, most of the production line vessels were in the 32' to 44' size.
The interior is really designed for one couple cruising, with its single double cabin forward and convertible dinette.
The 42', 40'and 38' versions are similar in layout, slightly smaller but of equal quality of course. The Yanmar diesels with shaft or Jet drives, interior yacht finish, a good ride, and a reputation for reliability all produce a beautiful "down east" looking little ship.
THE MARKET
Brokerage LH boats, in the range of 15-20 years old, should have condition and level of maintenance thoroughly verified. Any owner must also know that future care would be very important here. Pricing with these vessels is a very pleasant surprise for this quality.
44' versions are advertised for under $300,000 and go down from there
Prices as low as $125,000 for the smaller models are available
ALDEN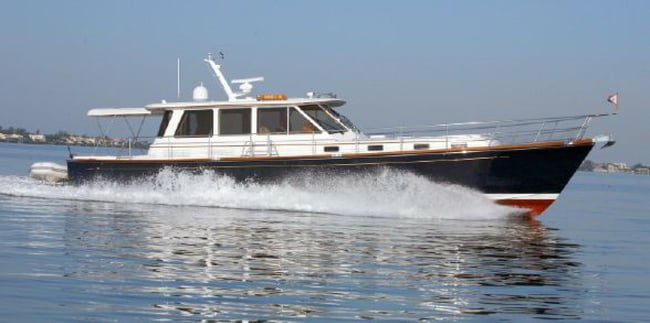 This venerable American yacht designer and his products are well known to those of us with some miles under our keel. A standout with sail he eventually was in involved in the production of some very fine power vessels.
These again are a line of yachts that, sadly, are no longer produced, but are part of the well designed, well-built genre of yesteryear still available through resale. All construction was, for its day, first class with traditional interior wood finish and a relatively (by todays standard) simple layout.
These vessels are part of American nautical history and as such, most have been exceptionally well maintained, a reflection of the sophistication of their ownership. All are diesel powered with, of course, straight shaft, as was their time.
THE MARKET
1999 40' Express is a one cabin optional layout with Yanmar power, 2600 hours and a very fine finish with impressive maintenance, listed at $375,000
2005 49' Express is also a one stateroom vessel, designed to be very roomy and commodious, both below and in the main salon. The 2 Cummins engines have only 1650 hours on them and the interior is impeccable. She is listed at $540,000
56' Flybridge is a 2 stateroom layout with a roomy fine interior, also apparently well maintained, she is powered by twin Caterpillar diesels, with only approx. 1900 hours on them.
Quality from a few years ago, standing the test of times, at very attractive prices!
VICEM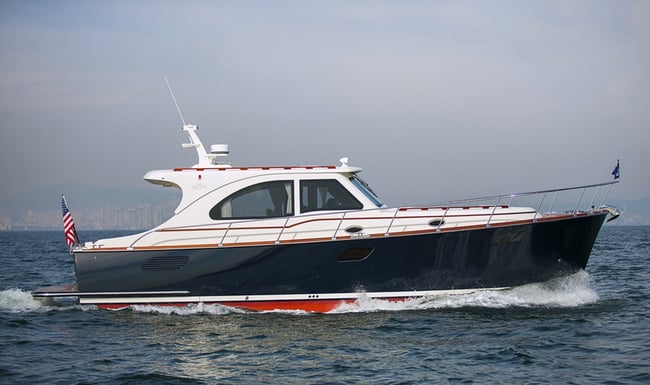 Vicem Yachts are built in Turkey by an established company, family owned. They are not as well-known as many other brands in North America but do have traditional "downeast" good looks and a quality build.
Their traditional construction is composite, cross layered epoxy soaked mahogany strips encased with fiberglass mat and resin. They now can build in cored fiberglass, but this is relatively recent and therefore most vessels on the brokerage market are the composite. The joinery is of a high standard and finished in traditional woods. The vessels are all outfitted with world class mechanical, electrical, plumbing, communications and navigation equipment, with buyer choice as to diesel engines, straight shaft or pod drives. They also boast the ability to modify any layout of their production models to accommodate much of what a new buyer may wish to change.
The builder also provides North American warranties and support. One of the great attractions of this line is pricing, both as to new and on resale. The builder can take advantage of local Turkish labor rates to produce, out of the door, vessels at extremely competitive prices, when compared to the other yachts listed in this article.
This has a trickledown effect on prices in the brokerage market. Provided, as with all used vessels, that she has been well maintained, and that in particular, any additions to hull or decks have been done properly to ensure no water intrusion, these boats can be an attractive alternative.
Another advantage is that there are several choices on the brokerage sheets, sometimes at prices which vary greatly, even as between similar sizes. This builder builds production models from about 33' up to about 70' with larger vessels currently being custom.
THE MARKET
2005 54' at $575,000
2007 55'Classic at $580,000
2003 51'at $540,000
A virtually new 2019 46' Classic is available and could possibly be purchased for about $995,000
RIVOLTA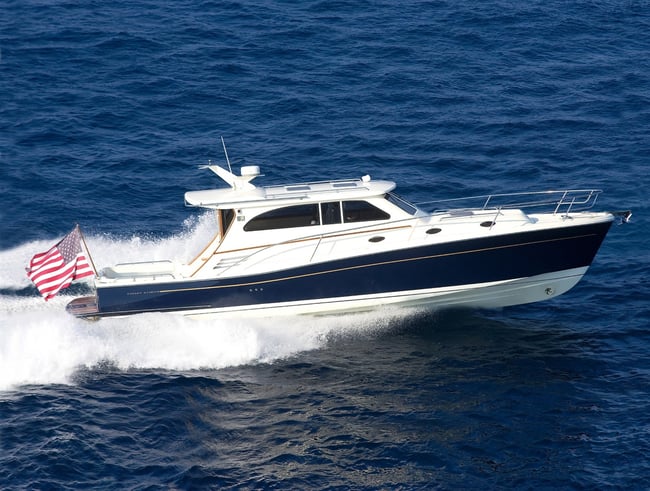 For those of you who appreciate a little Italian flair with your traditional "down east" vessel there is this very stylish option, Rivolta. This line of vessels is designed and built in Sarasota, FL by a family with old country origins. With a deep history in sailing, racing power boats and entrepreneurship, the company principals have developed their range of power yachts with a distinctly European flair.
The hull and superstructure retain the typical lines of their down east sisters but the finish and interior styling trend closer to what we see in many modern vessels from "on the continent." These boats as new are available in a range of sizes, all built with local quality construction, world class equipment and are powered with diesels engines of your choice. Interiors are, in keeping with the overall design approach, less "woody", more bright light/white color and more open feeling than some others of their hull style. These are yachts which are a step out in a slightly different direction, but not so far as to be beyond appeal to a typical "downeast" owner.
Two of their most popular vessels are the 44' Coupe, a 2 cabin 2 head vessel with room and openness. Some were built with diesel- jet drives, an expansive open rear deck with opening transom and large swim platform. The 40' Coupe, a 2 cabin 1 head vessel, twin diesel power, comes with all the basic accommodations you would expect from a yacht this size.
THE MARKET
2009 44' Coupe with diesels - jet drives at $339,000
2012 44', straight shaft diesels, at $360,000
Several 2005 41' Coupes at about $225,000
Many of these quality "down east" style power yachts available have much to offer.
Give me call to get better acquainted with them!
Larry Pringle | 561 510 3650 | Larry@DavidWaltersYachts.com