08 Aug
What is the Best Boat for the Great Loop? Marty Loftus' Recommendations
BY Marty Loftus -
1 COMMENTS
We're checking in again with DWY broker and lifelong boater Marty Loftus, who is on an ongoing Great Loop adventure with his wife aboard their 43' Marine Trader, NIL CAILTTE. We previously talked to Marty about planning for and beginning his Loop (read that post here), but in this post, we're diving deeper into what Marty thinks makes a great boat for the Great Loop, specifically in the trawler category. Read on for Great Loop trawler considerations and how to determine the best boat to reach your Great Loop cruising goals.

The Great Loop
The Great Loop is a continuous waterway route that recreational mariners take to explore the Eastern United States. It includes the Atlantic Coast, the Great Lakes, inland rivers through America's heartland, and the Gulf Coast, with a few route variations available for boaters to choose to tailor their adventure to their timeline and goals. You can start at any point at any time, but most Loopers start along the Atlantic Coast at the beginning of the summer and head north to enjoy milder summer weather and then head south through the heartland as the weather turns cooler. While many Loopers do it in about a year, a Great Loop trip can be completed over several months or even years, with as many or as few breaks in between cruising segments as you wish. Currently, Marty's boat is on hard at Sodus Point, NY, from which they'll likely make a late summer/early fall Great Lakes cruise before taking the boat back out of the water again for the winter.
What Is a Trawler?
Trawlers are a class of power boats that were originally used as fishing boats that pulled trawl nets through the water to catch fish; hence the name, trawlers. The trawlers we're talking about now are similar in look to those hefty working boats, but they're made for long-distance cruising in comfort. They're notable for being stable and spacious, and can usually carry and launch a dinghy, which comes in handy when you're cruising the Great Loop.
How to Pick the Best Trawler for Your Great Loop Adventure
The first questions you should ask yourself when you're searching for a boat for the Great Loop are: What do you want to accomplish and how do you like to live? Each of these questions will generate more specific questions as you drill down into what your Great Loop vision is.
What do you want to accomplish?
Are you trying to complete the Loop in a specific, finite window of time? Or are you planning to tackle it a piece at a time over several years? Where will you keep your boat when you're not on it? Are you going to keep the boat after you've completed the Loop, or are you planning on selling it?
How do you like to live?
Do you plan to have guests? Do you want to have guests travel with you for a week at a time while underway, or just visit while you're docked? What kind of activities do you like doing while exploring new places? Do you need a bigger dinghy you can waterski with? Or just a little tender that can get you to friends' boats or to shore from anchor?
For example, when Marty and his wife were shopping for their Great Loop boat, they came up with a list of requirements to guide their search. They wanted:
- Guest facilities with their own separate head
- A galley separate from the salon
- A back deck where they could sit and enjoy the view and have cocktails
- To be able to easily dock in marinas
With that list in mind, they determined the size of boat they needed (less than 45' to ensure easy marina access) and the layouts they were interested in, with separate galley and salon, and decent guest facilities. Before they found NIL CAILTTE, Marty was interested in an Albin 40' that he thought would be a perfect choice for the Great Loop. It had an aft dinette cabin with a head that could function as an office or a dining room, and then collapsed into a bunk for guests, with a door to close it off for privacy. You could use the whole rest of the boat without disturbing your guests, and only be giving up a secondary table and seating area while they were there, making the entire boat usable from stem to stern with or without guests.
Size Matters
Beyond marina considerations and your own living space requirements, size is an extremely important consideration for navigating the Great Loop under bridges and through canals. The Burlington Northern Santa Fe Bridge in the Chicago Sanitary Canal has a clearance of about 19.25' and it is a fixed bridge. So if your boat exceeds that in height, you have to go back the way you came. There is also a bridge at the western end of the Erie Canal that has a clearance of about 15' that does not open. You can get around that by going up the Oswego Canal and back down the Welland Canal to get into Lake Erie. Make sure you know what the height restrictions are on the Great Loop route you want to take so you don't get stuck on one side of a bridge with no Plan B for how to get to the other side.
Size also unsurprisingly corresponds to cost. The bigger the boat, the more you're going to pay for it, and the more difficult and expensive it is to find a place to store it for the winter. If you're the type of cruiser who likes to entertain, it pays to think carefully about how much you expect to host and for how long. You never have as many guests as frequently as you think you will, so if you can err on the side of more limited guest facilities, you'll save money and be more likely to end up with just as much boat as you need. However, if you're buying a boat you plan to keep for years and years beyond your Great Loop excursions, perhaps it does make more sense to invest in a little more space for guests on all your future adventures. But when you're on the Great Loop, you'll likely spend most of your time pulling into slips and joining the rest of the Looper crowd for whatever is going on. It's hard to not make friends while doing the Loop, and since everyone's got their own boat, you can be sufficiently social without having to have anyone stay aboard your boat overnight.
The third way size factors in is with your dinghy. You don't want to buy more dinghy than you need or can reasonably handle. Most Great Loop cruisers are couples, so a large, heavy, hard-bottom dinghy can be downright dangerous to hoist on and off your boat. The dinghy that came with NIL CAILTTE was one such dinghy, so Marty and his wife sold that one and bought a much lighter-weight roll-up dinghy that suits their needs much better than the larger one. But if it's really important for you to be able to waterski with your dinghy, you might need the big one with an engine that can get going fast enough for water sports. Your dinghy's main purpose is to get you from anchorage to land, so if you can stick to the basics, you'll be lighter literally and figuratively by having just as much dinghy as you need.
One last point on size: storage. If you're going to spend a year or more on this boat, you need to think through what you need with you and where you're going to keep it. Where do the clothes go? Where does the line go? If you don't have enough storage for what you want and need to have aboard, it's going to drive you nuts not being able to put things away.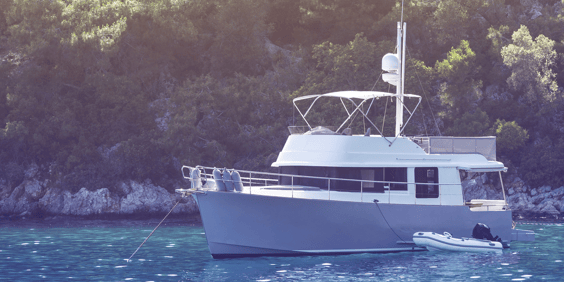 Power and Control
In another example of buying just as much as you need, Marty suggests going for highly efficient smaller engines. More than 50% of the Great Loop areas restrict boat speed or have wake limits, so economically it doesn't make sense to have massive engines burning a ton of diesel while puttering along at five to six knots.
For greater maneuverability, two engines are better than one, especially for folks with less experience in boats in this size range. Marty also recommends taking boat classes to get familiar with how to work two engines. Throw a bow thruster on top of that, and it becomes very easy to have a lot of control over your boat.
Lastly, having a boat with a flybridge is great for the Great Loop, because you can see better while driving, with 360° views. Just be mindful of your boat's height clearance!
Great Great Loop Trawlers
These are some examples of trawlers that DWY has sold recently, which Marty thinks are great representations of trawlers well-suited to a Great Loop trip:
- 39' Mainship 390 Trawler: roomy and comfortable with flybridge, twin bed guest cabin, Yanmar 6 cylinder turbo charged diesel engine

- 43' Albin 43 Trawler: equipped for comfortable coastal cruising, 3'6" max draft, popular model
- 45' Nordhavn 46: flybridge, unparalleled reputation for safety underway, guest cabin with two heads with separate shower stalls, dual helms, potential height problem but mast appears to be adjustable
- 42' Grand Banks 42 Classic: popular, high-quality, and comfortable layout, flybridge, 4'2" max draft


Ready to Find Your Great Loop Trawler?
Reach out now to Marty Loftus to discuss your Great Loop goals and get started with finding the perfect trawler to help you join the legions of Loopers: >CONTACT MARTY<