29 Jun
Cruising the Great Lakes with Ted Lockwood Part II
BY Ted Lockwood -
1 COMMENTS
We're back with Part II of Cruising the Great Lakes with Ted Lockwood, David Walters Yachts broker, lifelong sailor, and native Michigander. We are so grateful that Ted is generously sharing his vast Great Lakes knowledge and experience with the DWY audience. If you missed Part I, start here for a comprehensive overview of cruising Lake Michigan from Frankfort to Mackinaw. We're picking up the journey at Mackinac Island and heading further into the wilds of Lake Huron and the North Channel in this edition. This second installment is for the folks who really love getting out into nature, with fewer populous spots to stop, but lots of untamed waters and shores to explore. Get ready to take notes and start planning the Great Lakes cruise of your dreams with Ted's tips!

Mackinac Island
Whether you're into 18th-century musket-firing British military reenactments, fudge samples and horse-and-buggy rides, or biking on a car-free island, Mackinac has all that to offer and more. The island is accessible via ferry from Mackinaw City, or if you're able to grab a slip at the municipal marina, you can spend a lovely time exploring this Huron hotspot. If you can't get a spot in the marina, which has a fixed dock system, ferrying from Mackinaw City or St. Ignace is your next best bet; the waters around the island are not conducive to mooring or anchoring. Both Mackinac Island and Mackinaw City have lots of history and charm, especially in the spring and summer months, with the Lilac Festival and the Chicago Yacht Club Race to Mackinac bringing in multitudes of visitors.
Once you've had your fill of fudge, it's time to head east further into Lake Huron and onto Cedarville.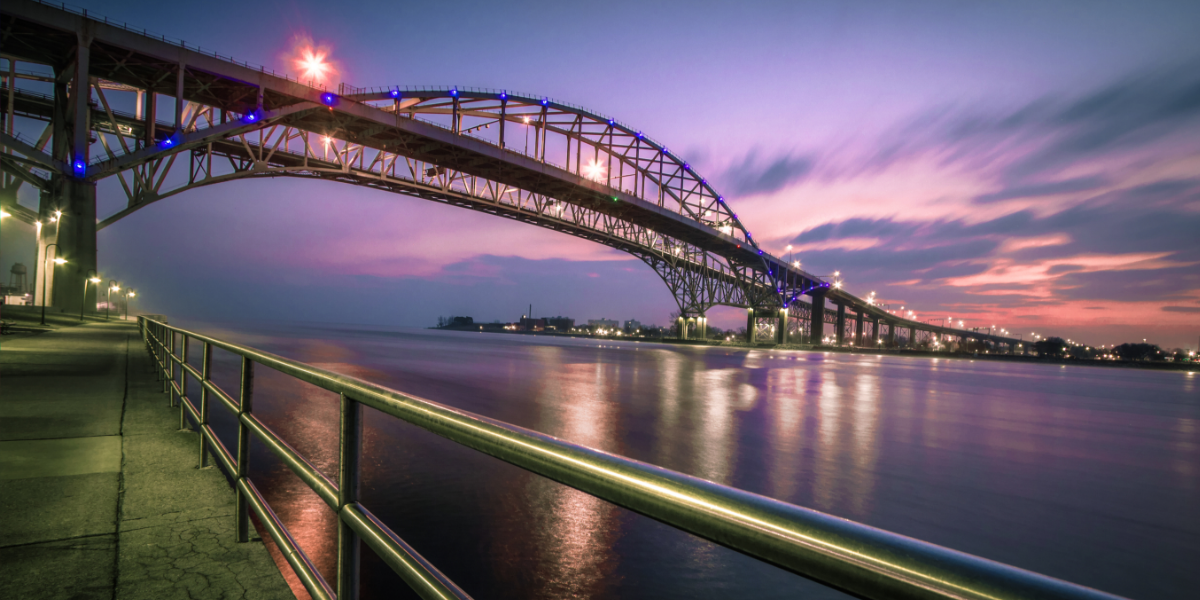 Cedarville and Harbor Island
Located on the southern shore of the Upper Peninsula of Michigan on the eastern end, Cedarville is worth meandering into the Cheneaux Islands to make a stop. If you've been to the Thousand Islands in New York, you'll feel you're in familiar territory. There are lots of peaceful places to anchor, including Government Bay on the way in, and classic boat lovers will have many boats to admire. Cedarville is a lovely spot to anchor overnight before you head to DeTour.
Check out a feat of engineering and watch the freighters go by at the "Linchpin of the Great Lakes," the Soo Locks on the St. Mary's River connecting Lake Superior to Lake Huron. As the busiest lock system in the world by cargo tonnage, you can be sure you'll get incredible views of all kinds of vessels passing through the series of gates and chambers using nothing but the force of gravity and 22 million gallons of water. Take a tour boat to pass through the locks yourself or get an overview from the observation deck. A maritime museum gives visitors more information and the history of how the locks were developed. Then when you're done marveling at the locks, St. Mary's River is a great spot to fish for herring if you're inclined to drop a line.
After Cedarville and the Soo Locks, DeTour Village is one of the last stops in the U.S. before you'll need to check in to Canadian customs. But first, head easterly from DeTour to Harbor Island, a remote island that has an awesome natural harbor with about 8' of anchorage depth after you pass through a little bottleneck to enter the harbor. From there, you're straight across from Yacht Haven, which is one option for where you can clear customs on the way to or from Canada—or you can go through Blind River or Thessalon.
Into Canada and the North Channel
If you choose to check into Canadian customs at Blind River, you'll find a nice marina and a good place to provision just a short walk away from the marina. From there, Canada and the North Channel lie to the east, full of possibilities.
On Manitoulin Island, you can stop in the lovely Meldrum Bay, or Gore Bay a little further east on the northern side of the island. Both bays are quite large, with Gore being the largest. Gore Bay is also a great spot to charter a yacht if you don't want to take your own into the North Channel. They usually have about 20-25 sailboats or trawlers available to charter. Most people do their cruising and gunkholing on the north side of Manitoulin Island—the south side is exposed to Lake Huron, so the cruising is not quite as good there. There is, however, South Bay, which is approached from Lake Huron and accessed through South Baymouth, and from there you can access a cool inland lake area on the eastern end of Manitoulin Island. To the northeast of Gore Bay, there are a couple of low islands, the Benjamins, which are very popular for swimming, mooring, and fishing.
Then head east to the town of Little Current, which is one of the best places to provision in the North Channel if you've been there a while. There's lots of docking, but don't let the town's name fool you—be aware of the current, which at 3-4 knots is not so little after all. Highway 6 crosses across Little Current with Little Cut Swing Bridge, which opens for the first 15 minutes of every hour from dawn to dusk during the spring, summer, and fall.
About eight miles southeast of Little Current, Heywood Island has two good anchorages and fantastic fishing and kayaking. Don't bother hiking on Heywood; save your boots for our next stop. One anchorage can be approached from the north side of the island, or peel off east to the other. You'll want to be aware of water depth and use GPS to navigate around Heywood. It's not like Chesapeake mud here; you could hit rock.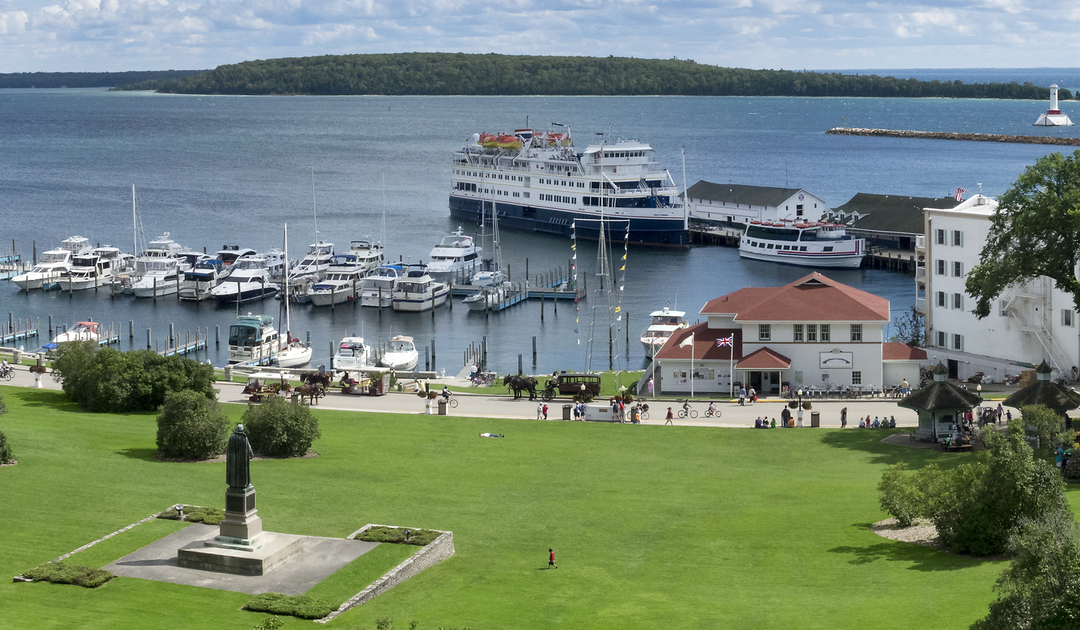 Baie Fine and Killarney
Our next stop is an absolute must-see on any cruise of the North Channel: Baie Fine. Baie Fine, pronounced "Bay Fin," is one of the few fjords in North America and one of the largest freshwater fjords in the world, measuring eight miles long and narrowing from around three-quarters of a mile wide to a couple of hundred yards at some spots. Enter from Frazer Bay, between McGregor Point and Frazer Point. There are some more well-known anchorages to pop into, but there are also numerous gunkholing opportunities to weave along the shoreline for hidden spots to drop anchor. Maryanne Cove and the Pool, entered through the Pool Channel, are quite popular, with the Pool occasionally filling up (in which case Maryanne Cove offers another anchorage option). If you anchor in the Pool, there's a dock on the north side with a beach and it's just a short, half-mile hike up to Topaz Lake, one of the clearest lakes you'll ever see. It's very deep, stunningly beautiful, and great for cliff-diving if you don't mind the refreshing temps of spring-fed lake water in Canada. If you're there in the right season, wild blueberries are everywhere (and occasionally you may catch sight of a black bear having a berry sweet treat).
Plan on spending a day or two in Baie Fine at least. There is incredible hiking in Killarney Provincial Park on the south side of Baie Fine, with great places to anchor along there. You can get a bird's eye view from overlooks in Killarney Provincial Park and take in just how breathtaking the fjord is, with strikingly clear water cutting through quartz rock peaks that gleam in the sunshine.
When you're ready to move on from Baie Fine, head back west 8-9 miles and then south about six miles to Partridge Island, and then about 12 miles east to Killarney. Killarney is on a river at the eastern end of the North Channel. This is where you'd jump off into Georgian Bay, which runs down 120 miles in length to Collingwood. Most folks do their North Channel cruising between Killarney and Blind River. Killarney has a marine store and a relatively limited grocery store, but it's a nice place to stay. Killarney is known for delicious whitefish sandwiches served out of a food truck that's been in operation since the 70s—before food trucks were a thing. Two to three times a week, the Sportsman's Inn Resort and Marina shows outdoor movies, so you can pick up a sandwich, tune your boat radio to an FM frequency, and enjoy a drive-in movie, boat style.
Tuning Into the North Channel
When you're ready to head back west through the North Channel, there are lots of great spots to stop along the north shore. To the northwest of Gore Bay, you can get to Beardrop Harbour, with Bear's Bottom Cove around the corner to the east. Beardrop Harbour is a very well-protected anchorage with a nice holding ground and really good fishing. If you catch a walleye, you can set the guts out on a rock after you clean it and wait to watch bald eagles swoop down to snag a tasty snack. Bear's Bottom Cove is also a good spot to anchor, and Beardrop can be a good starting point when you're going back west towards Thessalon, Spanish, or Blind River.
Up toward Spanish, there's Little Detroit Cut between Ethel Rock and the Canadian mainland. You can get to Spanish through there, where there is a municipal marina where you can usually rent bikes to get to the shopping in Spanish. Little Detroit is a very narrow channel: you want to call ahead and be absolutely certain no one is coming from the other direction before you get in there, because it is very tight with not enough room to turn around, but that's what makes it exciting.
A North Channel cruise is an experience of exploring nature, and with that can come a necessary lack of connectivity when it comes to communications abilities. For this reason, the Little Current Cruisers Net broadcasts on Channel 71 every morning, with Roy, the voice of the North Channel, giving updates on weather, the news, sporting and community events, answering questions, and relaying messages between boats. You can report in your name, boat name, and location and they'll transmit that out of Little Current to the entire North Channel so you can coordinate with cruising friends. Tune in while you're cruising to get the most out of your North Channel explorations and feel a part of the community that also appreciates this majestic part of the world.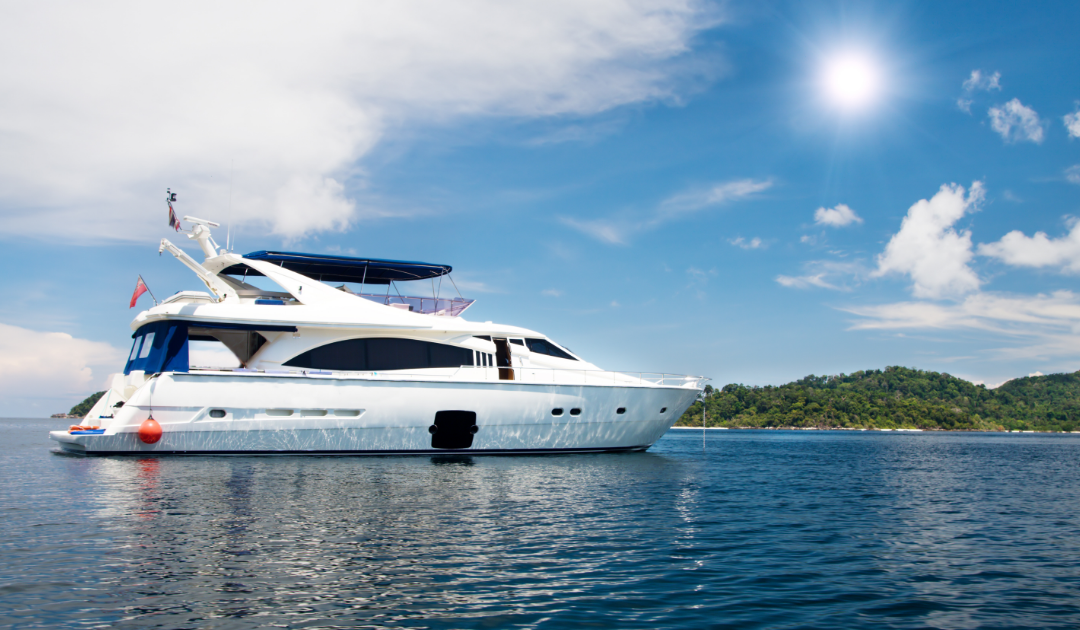 Ready to Cruise the Great Lakes?
No matter which route you take or stops you make, cruising the Great Lakes and the North Channel is bound to surprise and delight you with incredible vistas, thriving wildlife, and the friendly company of fellow boaters making their way through these waters. When is the best time to go? Earlier in the season in May is fantastic, and according to Ted, the end of the season in September is the bomb because it's less busy but not too cold. In June, July, and early August, it can get quite busy, but not British Virgin Islands-busy—you can still find places to moor.
So what do you think? Are you ready to cruise the Great Lakes? Let us know what you thought of this two-part blog series and if there are any spots you think we left out. And thank you again to Ted Lockwood for sharing his expertise and passion for the Great Lakes with us! If you're looking for a yacht in the Great Lakes area, Ted is your guy! Reach out to him here to get in touch.